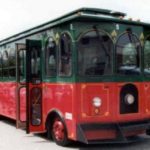 Climb aboard the Brea Trolley for a tour of Brea's historic past.  Departing from the Brea Museum at 495 S. Brea Blvd. the trolley will wind through historic neighborhoods and landmark locations that highlight the city's 100 year history.
A $5.00 refundable deposit is required to reserve your seat.
Fill out this form, submit your deposit, and take the tour through Brea's past.